THE ULTIMATE CHARGING DOCK
There is no more straightforward method of charging an Apple phone than the use of Powerstate four in one charging dock. Powerstate offers you an exquisitely, powerful, and sleek designed technique to charge Airpods, Apple Smartwartch, and Apple iPhone. We additionally include fast charging external port, which enables anyone to charge all USB-chargeable devices.
WHAT USERS OF APPLE ARE CHARGING WITH THEIR POWERSTATE CHARGING STATION
Apple iPhone.

Apple Watch.

Apple Airpods.

Apple iPods.

Apple ipads.

Universal charging for Android Devices.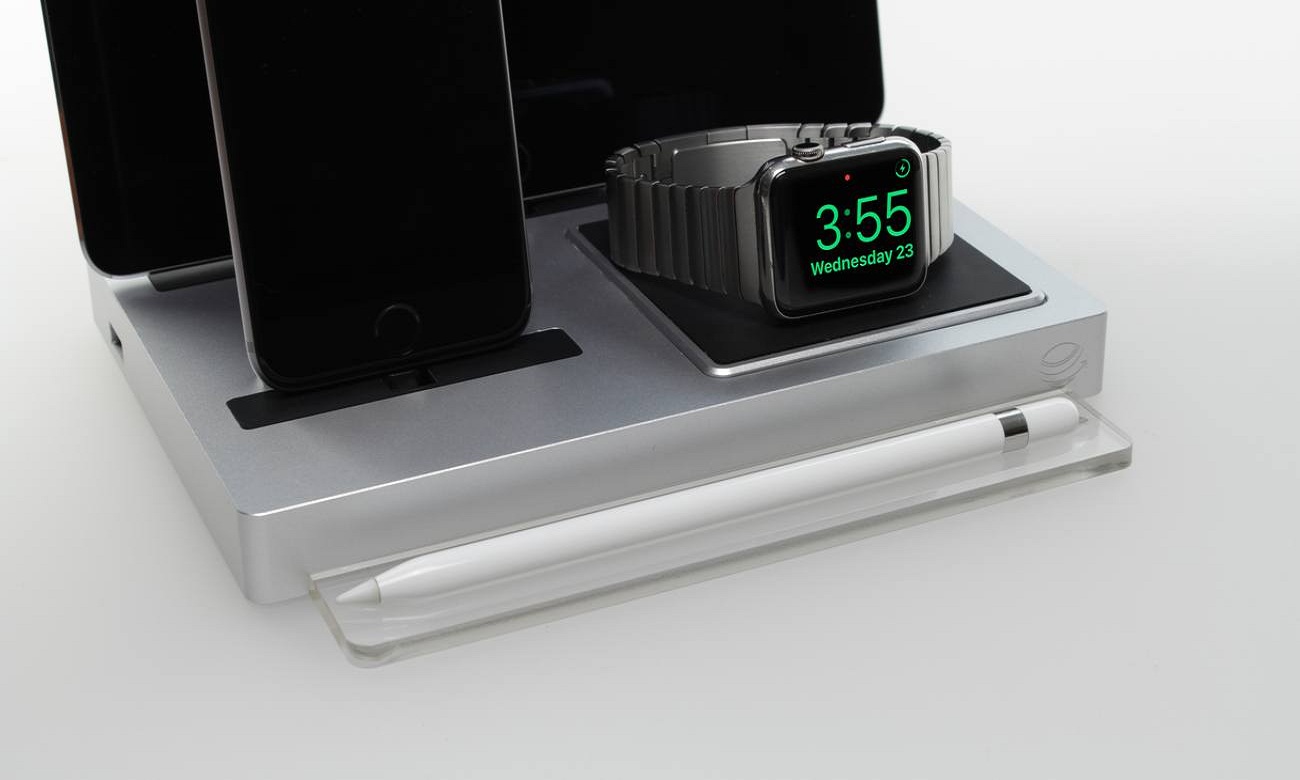 THE ART OF CHARGING SIMPLICITY
You must be tired of plugging in your Apple Watch or iPhone to charge throughout the night only to find out the battery is dead when you wake up. It is one of the reasons we decided to create Powerstate (The Ultimate Charging Ecosystem).
It has the latest Magnetic Charging Module for all Apple Watch generations.

The Powerstate provides an integration of the most recent C94 APPLE MFI CERTIFIED CHIP for quick-charging delivery of power.

It has RUBBER NON-SLIP BOTTOM to ensure the station used for charging is in place.

Powerstate makes use of the most recent WIRELESS CORE INNOVATIONS integrated with proper functionality and design. We came up with an all-inclusive charging dock and provided a display of all devices for Apple.

It has a unique body design made from Anodized Precision-extrude Aircraft Grade Aluminum. It makes the dock to be extremely durable.
WHY POWERSTATE OUT CHARGES THE COMPETITION
We have award-winning, diverse line of products. These products include consumer electronics, digital gadgets, mobility accessories, and much more.
Powerstate has a sleek design

It occupies a small space.

It has reliable hardware.

Powerstate is Apple MFi Certified.

It's versatile in terms of charging devices.

Powerstate is convenient for desks and nightstands.

Powerstation doesn't require an existing charger for apple (Powerstation is unique since it is its Charger).

It has a single charging station for Apple Watch, Airpods, and iPhone.
OUR EMPOWERMENT PHILOSOPHY
Smart Devices in recent times are a crucial part of our day to day lives. These devices make our lives more efficient, and more comfortable the moment they are adequately charged. Our aim revolved on designing a more beautiful and functional charger. Something that will enable different devices to recharge quickly and assist you to remain in the game.
OUR MISSION
We have an obsession with perfection when it involves coming up with a device for charging, which combines function and design. Most importantly, with the most recent USB-Charging and magnetic technology. Our primary focus is to give affordable and practical solutions for charging for modern mobile devices.
THE FREEDOM OF ONE CHARGING DOCK
Deep in its heart, Powerstate is designed to be a high-speed and efficient charging station. The most important thing is it can work well with Airpods, iPhone, any Qi-enabled, and Android handheld devices. You are only required to place the device on the upper surface of the Charging Pad, and you are good to go.
TECHNICAL SPECS
It can work well with Apple Watch.

Powerstate has over-voltage protection.

It has over current protection.

It is a fast charger.

It has universal output.
For More Detail Visit Now: All-in-One Wired and Wireless Fast Charging Station for Apple iPhone, iPad and Watch