Top 5 Best Video Conferencing Software 2021
Are you on the lookout for the best video meeting or video conferencing platforms? Wondering what video conferencing apps are safe and reliable for online collaboration? This blog post contains a list of the top best video conferencing platforms that you can trust/use in 2021.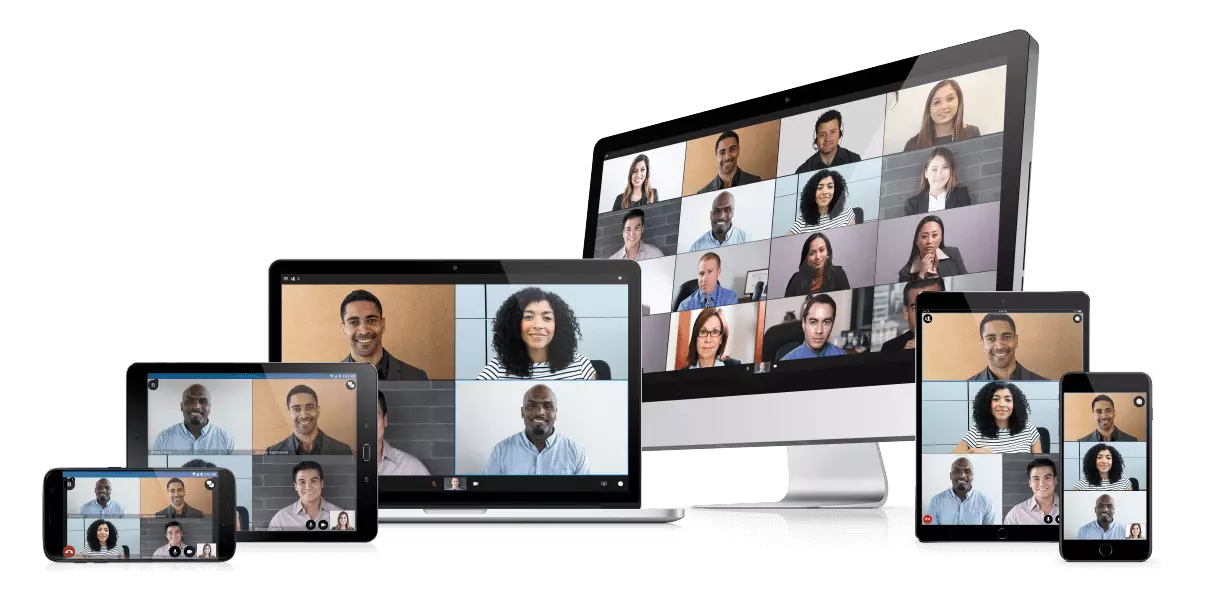 GoToMeeting
GoToMeeting is a mobile-friendly video meeting solution developed and marketed by LogMeln. It offers audio conferencing, video conferencing, and screen-sharing as well. What sets it apart from the rest is that it is mobile-friendly, users can easily set up and join a video conference from their smartphone without going through any complex processes. There're also settings to improve the image and call quality, as well as single-tap invites to connect to a video conference.  It is available for both iOS and Android users.
Zoom Meetings
Zoom Video Communications is an American communication tech company headquartered in California. It offers online chat and video telephony services via cloud-based peer-to-peer solution, and is widely used for telecommuting, teleconferencing, social relations, and distance education. It is probably one of the most popular video conferencing solutions available out there.
Zoom offers 25 streams with up to 100 speakers in free tariff, implementations for all main operating systems, integration with mainstream browsers, HD audio, and video, etc. This is the reason the majority of online users prefer Zoom video conferencing solution. What makes this stand out is that it can be run on a really slow internet connection.
Mind 
Mind is another name that getting steam among online users. It pays special attention to security and privacy – something that most video conferencing apps lack. It employs a state-of-the-art encryption design and has WebRTC standards to protect its users' privacy from spies, hackers, and uninvited visitors. It is equipped with nearly everything considered crucial for a video conferencing app. 
Joining a video conference on Mind is a breeze. All you need is to follow the link, no install or download is required. Users don't even have to go through an irritating registration process. Participants can share their screen, a browser tab, or an application window with other attendees, adding more in-person touch to video conferencing. Moreover, the recording option is available to all participants and the record storage amount isn't restricted to any subscription. 
U Meeting
Developed by a Taiwanese multimedia software company CyberLink in 1996, U Meeting is a cloud-based video meeting/conferencing solution for video meetings and webinars. Users can choose from four different pricing plans. Its top Enterprise edition offers premium customer support, meeting analysis, and end-to-end encryption. The more you pay the more features you will get. 
The noteworthy features include but are not limited to simple user interface and meeting layout, full-frame rate screen sharing, Fast to invite people and host a meeting, no plugins or downloads required, lowest drop-call rate.
BlueJeans Meetings
Founded in 2029, BlueJeans Meetings is a cloud-based video meeting/conferencing platform headquartered in California. What makes it stand in a crowd is that it has +Dolby voice support. Although it doesn't have a free tier, still users can give it a shot free through a 30-day free trial period.
Users can choose from three pricing plans. The premium packages include a room system, additional hours of recordings, and a calendar support. As already mentioned above, it supports Dolby voice to offer super clear audio for video meetings. Moreover, it supports free phone audio in 40 counties and displays up to 25 participants on the screen for a fully immersive virtual video meeting experience. 
What to Look For in a Video Conferencing Platform/App
One may have trouble spotting the best video conferencing apps in the crowd. There are a number of things that one should consider when opting for a video meeting app. 
The Users Experience
Regardless of how a company or institute wants to use its video conferencing software, ease of use is vital. Complicated video converting platforms are annoying for IT teams, students and employees. The following features are considered vital for a video conferring app:
Screen Sharing

– Used in combination with video, screen sharing allows users to see the screen of the speaker. It is a vital feature that makes online conferences more intriguing, keeping all the participants on the same page.

Single Click to Join

– A professional and intuitive video meeting software should make it easier for all participants to join through a meeting code, link or number. Installing software, entering passwords, and jumping through different hoops to connect to a video chat, are considered downsides. 

HD Video and Audio

– A video conferencing platform is designed to imitate in-person meetings. So, poor audio and video quality can make things less collaborative. A video conferencing solution should maintain the best quality audio and video, irrespective of how many people are on the call.
Security and Reliability
Security is the top concern for IT teams when they opt for a video calling app. Many meetings have confidential data, and an uninvited participant can pose a big threat to the company's secrets. Look for a video conferencing app that publishes detailed information on its compliance and security practices. Make sure it has multiple security layers and is checked by third-party audits on a regular basis. Going through regular penetration testing is also considered a plus point.
3rd Party Integrations
Some video meeting apps allow third-party integrations with other apps like Google, Microsoft 365, and Salesforce. Organizations already having subscriptions to other services should go for a video conferencing solution that can integrate them. Integrations allow users to;
Import Documents and Presentations

: This allows teams to update projects or files in real-tie, taking video calls to the next level.

Launch/Schedule Meetings

: Video conferencing software that integrates with email clients or calendar apps enable users to quickly launch and schedule meetings or send emails to other people in the video call without having to quit those apps.

Record Videos

: Some video meeting apps allow participants to save a recorded file of meetings. These recordings can go long way toward training materials for newbies or creating references for projects.

Add Notes

: Certain video meeting apps use Artificial Intelligence (AI) to allow automatically taking notes of a meeting, while others allow participants to add their own notes. 
What's your favorite video conferencing software? Feel free to share your valuable feedback with us in the comments below.