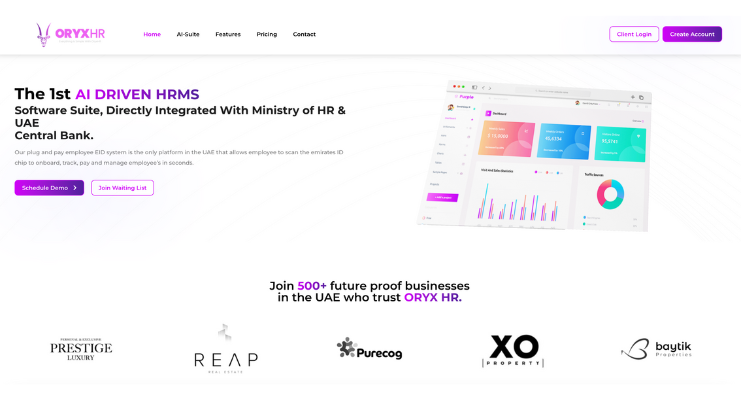 Introducing OryxHR: Revolutionary AI-Powered HRM Software Platform Launches in Dubai for Small to Mid-Sized Companies
Dubai, May 24, 2023 – OryxHR, a groundbreaking software platform, is set to redefine the landscape of Human Resource Management (HRM) in Dubai. Powered by cutting-edge artificial intelligence (AI) technology, OryxHR is the first of its kind, designed exclusively for companies with 1 to 500 staff members. This innovative solution aims to streamline HR processes, enhance operational efficiency, and elevate the overall employee experience.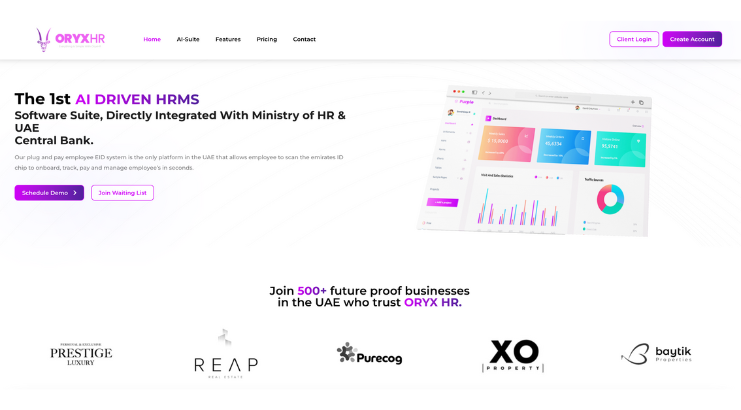 Traditional HR management systems often struggle to keep pace with the evolving demands of today's dynamic workforce. Recognizing this challenge, OryxHR has harnessed the power of AI to create a transformative platform that automates time-consuming tasks, empowers HR professionals, and delivers real-time insights.
Lewis Windle, the CEO of OryxHR, expressed his excitement about the launch, saying, "We are thrilled to introduce OryxHR to the vibrant business community of Dubai. Our platform represents a significant leap forward in HR technology, enabling organizations of all sizes to unlock their full potential. OryxHR's AI-driven capabilities will revolutionize how HR professionals operate, fostering a culture of efficiency, innovation, and employee satisfaction."
One of the key features of OryxHR is its intelligent recruitment module. Leveraging advanced algorithms, the platform identifies and selects the most qualified candidates from a pool of applicants, significantly reducing the time and effort spent on manual screening. This ensures that businesses can make informed hiring decisions quickly and efficiently, ultimately securing top talent to drive their growth.
Furthermore, OryxHR's performance management module takes employee evaluations to a whole new level. By analyzing data patterns and performance metrics, the platform generates actionable insights that help managers identify areas of improvement, recognize high performers, and implement targeted development strategies. This ensures that employees are motivated, engaged, and aligned with organizational goals, fostering a culture of continuous improvement.
The OryxHR platform also prioritizes employee well-being and satisfaction. Its comprehensive employee self-service portal empowers individuals by granting them access to their personal data, leave balances, training opportunities, and other relevant information. Moreover, OryxHR's AI chatbot provides instant assistance, answering employee queries, and guiding them through HR processes, ensuring a seamless user experience.
Dubai has long been a hub for innovation and technological advancement, making it the perfect launchpad for OryxHR. With its intuitive interface, robust functionality, and AI-driven capabilities, OryxHR will revolutionize HR practices for small to mid-sized companies in the region.
For more information about OryxHR and to schedule a demo, please visit www.oryx-hr.com
About OryxHR:
OryxHR is a pioneering software platform that leverages AI technology to transform HR management for small to mid-sized companies. By automating mundane tasks, optimizing recruitment processes, and enhancing employee engagement, OryxHR empowers HR professionals to focus on strategic initiatives that drive organizational growth.
Contact:
Emily Johnson
PR Manager, OryxHR
Email: emily@oryx-hr.com
Phone: +971 509792415
Note to editors:
For a personal interview with CEO Lewis Windle or any other media inquiries, please contact Emily Johnson at emily@oryx-hr.com or call +971 509792415