Facebook for Small Businesses
As of 2017, Facebook has more than two billion users and if you are not using the platform for your small business then you are missing out on a wonderful chance to connect with your potential customers. To promote your services and products, you need to create a Facebook page and have followers. While you can always Buy Real Facebook Likes, here are some ways to set up a Fan page for you small business.
Step 1
Before you begin marketing your business on Facebook, it is important to make your page as impressive and appealing as possible. This will get more people to like your page as well as increase its chances to rank higher Google's search results. Your profile picture and cover photo are the very first things that people will notice when they visit your page. Make sure to use captivating images that are also applicable to your business. You can use the logo of your company as a profile picture. The cover photo could be anything related to your business including a list of products/services you offer, your tagline or simply a photograph of your team. Next comes the "About" section where you need to clearly but precisely introduce your business using keywords. Keywords are terms that inform people what your business is offering. For instance, keywords for a Chinese restaurant could be "Chinese" and "Food". Adding relevant information in this section not only acts as an introduction for visitors, but also informs search engines about your business.
Step 2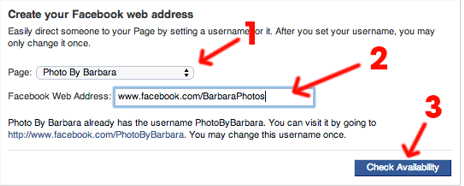 Also Read: Benefits of Facebook Marketing
Once you have created a comprehensive business page, it is time to request a personalized URL address like www.facebook.com/yourbusinessname. This will make it easy for you to share the web address with customers and give your page and branded and professional feel. Until you change the address, the URL will consist of some random numbers, making it difficult for your fans to remember and find. When you have changed the URL, don't forget to promote the page by sharing the web address on all social media profiles like Twitter, Instagram, LinkedIn etc.; as well as on business cards, email signatures, website and signs.
Step 3
The next step is to start posting content on your page. But before you make a post, keep in mind that Facebook newsfeed is like a social scene where you do not immediately start selling your service or product. First, you should warm people but initiating a good conversation relevant to your brand niche. Once your audience starts interacting with you, then you tell them about your business. When posting content on a Facebook page, the commonly used rule is to make the posts 80% entertaining and interesting to the followers and only 20% promotional. Also, Facebook uses an algorithm to see which