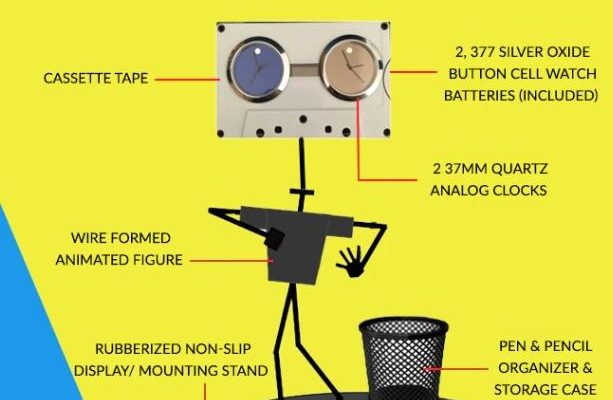 Inwaya
Inwaya is the fusion of steel wire, time keeping devices, and audio cassettes, to create art that is visually recognizable, emotionally appealing with practical functionality. Inwaya uses audio cassettes to translate different forms of self-expression in wire form.
The clocks are handmade by one artist who created four unique design you can choose from. They can be semi customized with an inter-changeable magnetic graphics. They come in different solid and transparent colors. The clock dials can be customized with different material, color, texture, images or logos.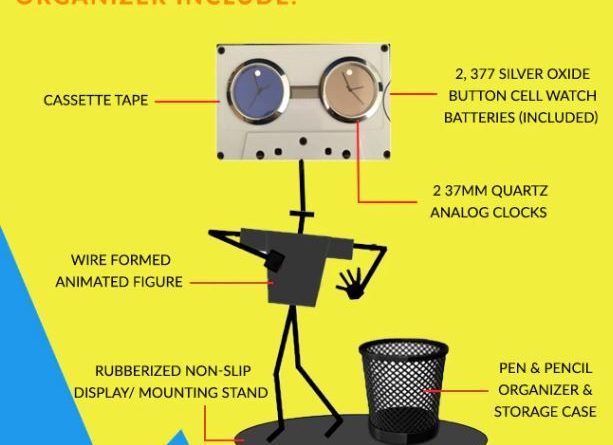 The combination of audio cassettes, clocks, pen holder, steel wire and magnet, create recognizable figures anyone can identify with. The product can be used for personal use on desk and book shed, or in business as a brand promotional item.
The cassettes is a group of animated characters that have a head of a cassette eyes made of clocks and a body of wire, that happily performs the role of clock and desk organizer. These products are an artful interpretation of the traditional desk clock. It allows you to express your unique style while organizing your desk and keeping time in multiple time zones.
The clock includes two fully functional, battery operated quartz clock inserts. They provide dual time functions and powered by standard 377 button cell watch battery.
Key feature of the Inwaya include
Genuine buckskin
Handmade
Lightweight
Dual time desk clock
Lightweight
Unique character
Customizable interchangeable graphics
Made from real audio cassette tapes
The desk organizer are great for your office cubicle desk, teacher's desks, home office, craft room, child's room, nightstand , or anywhere you would like to display a unique desk organizer and dual time clock.
Benefits of Inwaya characters include
Keep track of time
Represent your personality
Encourage shared cultures
View multiple time zones
Desk organizer for pen
Nostalgic look and feeling
Compact size
Stands out
Support handmade art
Quirky and fun humorous feeling
The cassettes are inter-changeable, and when not in use can be stored in protective dust cover (storage case) which also provide dual functions of storage and display stand. With its thin profile and compact size, this clock requires very little space; making it easy it to display in small and large home and office space. A practical and functional timepiece, that is unique and beautiful.
For More Detail Visit Now: Old School Cassette Tapes, Made into Unique Functional Art